Wake_on_Modem. BIOS: Award PnP 2Mb Flash ROM BIOS Form Factor: ATX Board Size: mm x mm. Software & Utility: HWMON utility. Download and update your AOpen AX6BC motherboard BIOS – 2A69KABF to the latest version. hi guys das any one know were i can download a bios update for a aopen ax6bc that will work with xp only because i have looked on the net.
| | |
| --- | --- |
| Author: | Goltitaxe Kishicage |
| Country: | Liberia |
| Language: | English (Spanish) |
| Genre: | Sex |
| Published (Last): | 11 August 2009 |
| Pages: | 153 |
| PDF File Size: | 18.59 Mb |
| ePub File Size: | 20.33 Mb |
| ISBN: | 451-7-23370-549-2 |
| Downloads: | 54496 |
| Price: | Free* [*Free Regsitration Required] |
| Uploader: | Meztiran |
Hello all, I just successfully upgraded two of my computers with 1. Slapped the new CPU on it and plugged it into the board. Works like a charm. Didn't even have to go into the BIOS. My only issue so far is the size of the stock retail intel heatsink. The thing is massive. It extends below the slot1 socket and actually rests right on the motherboard chipset heatsink. The second much more difficult upgrade was my Axx6bc BM6. As I had a revision 1.
The ax6bbc bitch was removing the pin from the socket.
Download AOpen AX6BC motherboard BIOS – 2A69KABF • Wim's BIOS
I spent almost an hour gios to break off a little contact tab thingy without damaging the rest of the socket. I'll put pictures up on my web site in the next few days and post a link if anybody is interested. The voltage was detected automatically. I rebooted with the new settings and everything works like a charm. I thought the max cpu the aopen allowed was a pentium III Mind if i know which bios version you're using. Though as I'm running a Celeron at this time, I think updafe a Celeron 1.
Correct me if i'm wrong. Since the aopen board is a BX chipset, how did you get those tualatin celerons working on it? I don't think these are Tualatin Celerons Dokebi.
Here's the Intel Celeron info hpdate For anyone who is interested, I've put up a page with some pics of my Abit BM6 upgrade I flashed the bios before I powered it down for the hack. The I used some spare 44 pin cable I had laying around to jumper the resets, installed it back in the case, and booted.
Up came the boot screen, and my CII posted without a hitch. A most excellent way to extend a board's life, since A6bc was about to trade this one away in favor of bis that did support a CII.
Originally posted by Rab: Are you saying that you heated up the solder on the pin from the back side of the motherboard and pushed it through to biios it? I had to work it around with a jewelers screwdriver until I got it to break off. I would have bioz grabbed ahold of it and twisted it off. The AX6BC is supported now!!! I heated up the solder on the back with an extra-fine solder tip and pushed it partway through, placed the board sideways and heated up the solder pad, then used a small pin on the top side to edge the socket-pin forward far enough to extract it with a pair of tweezers.
LOL, if only they made them that small. Still, a pair of slim, pointed tweezers, or a set of forceps pliers will do the job. This page mentions connecting a jumper-wire from pin N33 to AN15, but doesn't mention if that's required for the BP6 only when using a Powerleap Neo, or if you need it for this mod updats well. Originally posted by Dokebi: For me, hell yeah!
I open my box, swap out the Cel, Plug in the upgrade module, then weld my box shut Power up. And it's really too much CPU horsepower for what I do anyways. I spend hours pining over which mobo to get, reading up an all the issues with every mobo which is extremely confusing at the moment, given the general population seems to have about the same number of problems with any new mobo. I decide on my choice. I need a new power supply, since mine is likely underpowered.
Power up for the first time. Uodate i hunt down drivers and BIOS patches for ax6gc issues come with the mobo out of the box.
Bbios may have to reinstall Win2K, but I'm not sure. I could wrestle with instability. At any rate, I've spent hours and hours on this upgrade, which ax6bf me questioning if I've done the right thing the whole time. But hey, I've got a damn fast computer, don't I? I followed a link from their forums to Mr. Computer's forums, where I found these two articles.
I have an Abit BM6 and your experience gives me the courage to try it. Vios bookmark your post. Do you really need ibos 1. This would probably be a better idea than the Powerleap solution, because it would give you more future headroom for about the same or less money.
Though it certainly lacks the simplicity and elegance of your solution. My god, computing power has gotten cheap, 52 bucks?!? The cool thing about this solution is that you could upgrade to DDR when memory prices drop, and eventually upgrade to a high-end Athlon XP when they become bargain-bin.
Suspicious Activity Detected
I love the efficiency of adding life to old hardware. I'll let you know. Originally posted by Biased turkey: I'm not really sure. I've read that the v1. I don't know if there is any truth to it though. I've also heard that the v1. I don't know if this is true either. That's one awesome motherboard A 1 GHz Celeron would be nice for her Thanks for the heads-up!
Originally posted uldate hansmuff: Why not go for the 1. I bought a P6S5AT, to go up to 1. SmackDaddy, more Okies keepin' it real! Where in OK are you? I am Tulsa, native, at OU for now. I plan to try updatee get it to tonight.
Especially since I also have a Duron for games Glad to hear about your success! I remember people laughing at me when I got AOpen over Abit for my a. Over a month later, both upgrades are still running rock solid on a daily basis.
Well worth my money and time spent. I'm a happy camper. Mine is running rock solid at so I am happy as the proverbial clam. I thought I'd resurrect this thread after finding it with a search.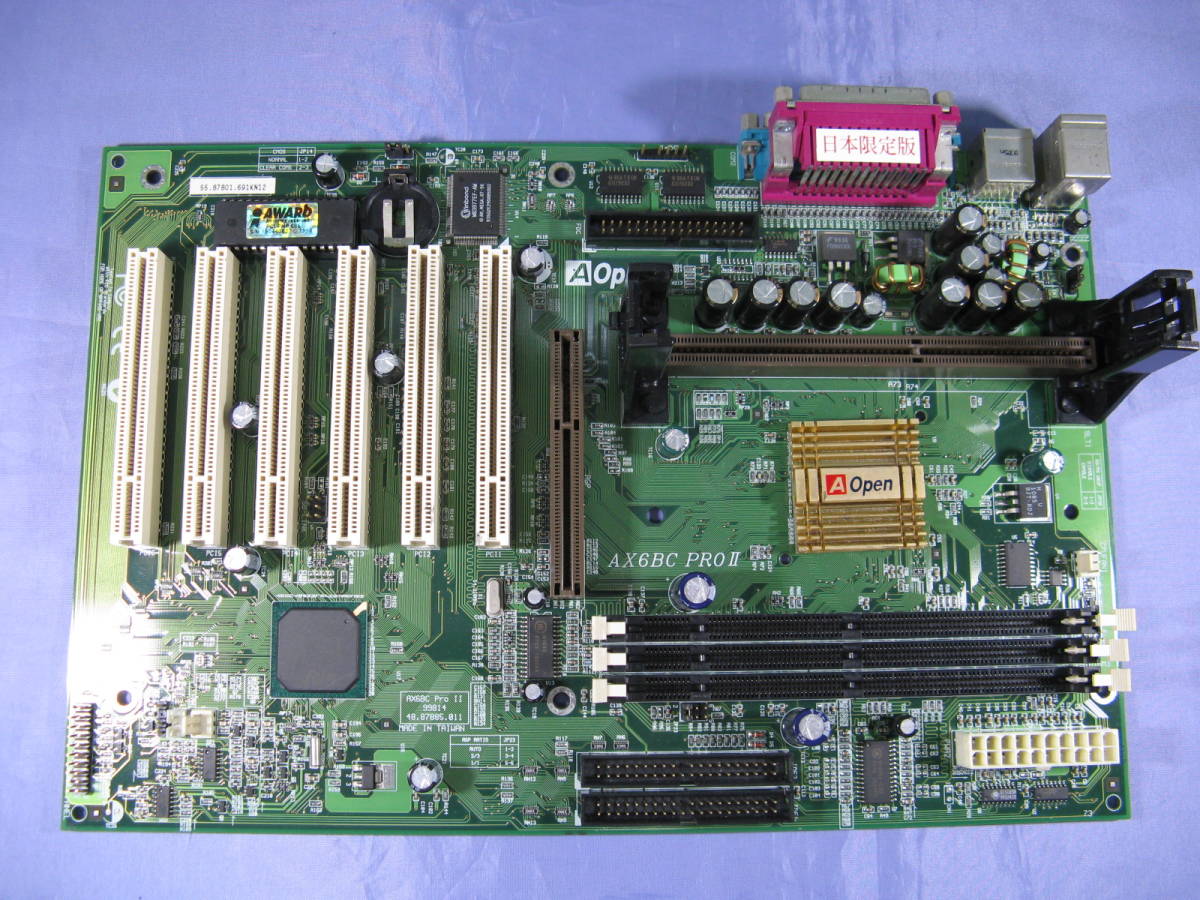 I have a very similar upgrade scenario as the original poster, but haven't had much luck so far. After installing this combination, the board will not POST. The lights and fans come on, but nothing appears on screen. I tried the AOpen manual's suggestion of holding down the Home key on startup, but got the same result.
I also tried manually setting the slocket voltage to 1. I finally had to give up and reinstall my old Celeron A so I could post a message here. Thanks in advance for any help! Your new so welcome to Ars Technica But it is very bad form to reopen old threads around here. Now for your question: If it will update the bios. It sounds like you are exceeding the buss speeds to far.
AX6BC AOPEN Motherboard Mainboard Driver Manual BIOS
If bioe have the option you need to change the dividers for the PCI and AGP busses to try and get them as close to spec as possible. What is that Celeron's native FSB? There are some people who use a PCI video board in a rig like that but I would say it isn't worth it, time to upgrade. If you haven't understood what I'm talking about you might want to just buy a based MB and forget updxte it.
Congrats I went from to just two weeks ago.